10 amazing Italian cities off the beaten path
If you are thinking of traveling to Italy and want to visit amazing places full of history, this post is for you. You probably know that Italian cities are among the most visited by tourists in the world. Rome, Milan and Venice welcome millions of tourists every year.
But besides the traditional destinations, what other amazing Italian cities should you visit? Definitely many! Italy is a country full of stories, so there is no shortage of interesting cities, of various sizes and spread throughout the country.
In this post, we bring you 10 Italian cities off the beaten path that you can't miss on your next trip to Italy. Be it the landscape, architecture, culture, people or history, the places we present below stand out among the incredible Italian cities.
Are you ready to discover them with us? Good reading!
10 amazing Italian cities that you should visit on your next trip to Italy
1. Noto (Sicily)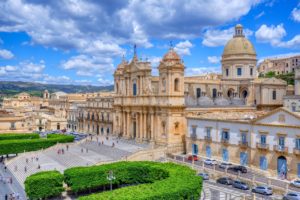 Noto is not only a Sicily gem, but also one of the Italian cities you must visit. First of all, Noto is a true paradise for lovers of baroque architecture. Its buildings carved in pale stone are so incredible that they are a UNESCO World Heritage Site. The unique artistic and architectural character are the reason for that.
At the same time, there is a historical fact that makes Noto even more special. Although a town with that name has existed here for centuries, what you see today is a "new" Noto, as an earthquake razed the region in 1693.
Finally, a tip: when you go to Noto, remember that the best time to appreciate its architecture is at sunset. The golden light makes Noto's architecture absolutely stunning.
2. Matera (Basilicata)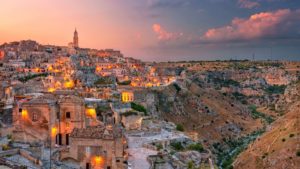 If you love unusual places, Matera will delight you. Firstly, because Matera is like a mountainside jigsaw puzzle, with buildings carved in the tuff, ancient caves and incredible views. Matera's caves, called sassi, served over the centuries as dwellings and are the city's trademark. They are a perfect example of a human occupation in harmony with the ecosystem.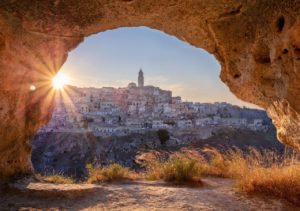 History also makes Matera one of the most interesting Italian cities. There are human records here since the Paleolithic, and its natural caves have attracted residents for at least 7,000 years! This tradition ended up shaping the appearance of the city, which is made of overlapping buildings, connected by alleys and staircases. Furthermore, the caves also attracted hermit monks. As a result, Matera has many ancient rupestrian churches.
Despite this rich history, in the 1950s Matera was considered a "national shame" by the Italian government due to the extreme poverty of the Sassi inhabitants. Residents were moved to new homes on the outskirts, and Matera became an almost ghost town. Everything changed in 993, when Matera was declared a World Heritage Site by UNESCO and regained pride in itself, becoming what it is today: the jewel of Basilicata and one of the most incredible Italian cities!
3. Bologna (Emilia Romagna)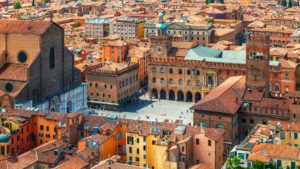 Unlike other cities on our list, Bologna is not exactly "unknown." After all, it is the capital of Emilia Romagna and the seventh largest of Italian cities. However, more famous cities like Milan, Rome and Florence often eclipse Bologna, which ends up not getting on many itineraries around Italy.
But here's a warn: this is a real shame! Bologna is a vibrant city, where there is no lack of food for body and soul. Culture, museums, historic buildings and beautiful architecture – note the famous arcades in the historic center – are part of the attractions of Bologna, one of the Italian cities you should visit.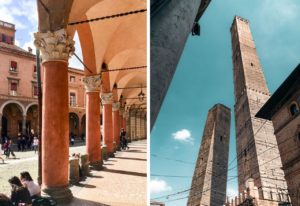 However, gastronomy is perhaps the most (literally!) delicious facet of Bologna. The city claims to be the birthplace of famous Italian dishes, including lasagna, tortellini and tagliatelle. Furthermore, Bologna's rich gastronomic culture can be tasted and proven in its colorful markets, street foods and wonderful restaurants.
Finally, a curiosity, which reveals a lot about Bologna. The city is nicknamed La Grassa (the Fat, due to its culinary tradition), La Dotta (the Learned one, as its university is said to be the oldest in the world) and La Rossa (the Red, thanks to the colors of its buildings and to its political leanings).
4. Civita di Bagnoregio (Latium)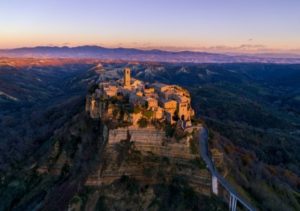 It looks like a movie set: a medieval town perched on top of a rocky hill and surrounded by valleys. But it's pure reality. We're talking about Civita di Bagnoregio, one of those Italian cities you might not know, but you should.
First, what makes Civita di Bagnoregio so amazing is its location. The hill on which the city is located has been shaped over time by the erosion of the wind and the rivers that pass by its sides. The result is almost surreal in its beauty.
However, the geography of Civita di Bagnoregio has also made it suffer many collapses over the centuries. As a result, one city gained the poetic nickname of "città che muore" (city that dies). In addition, it has been abandoned by the inhabitants over time, so today few today people live there.
Finally, a curiosity about Civita di Bagnoregio. Access to the city is via a single bridge, which makes the view even more picturesque. This bridge was only built in 1965. Before that, anyone who wanted to enter or leave the city had to go through stairways.
5. Cefalù (Sicily)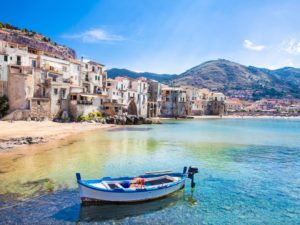 There is something magical about Cefalù, which makes it one of the most amazing Italian cities. Maybe it's its shore, with beautiful beaches, embellished by fishing boats. Or the masterpieces of Arab-Norman architecture (such as the cathedral, which is a UNESCO World Heritage Site). In any case, Cefalù is definitely a city you should visit on your next trip to Italy.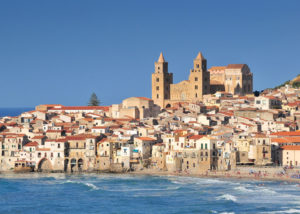 For a start, the natural panorama of Cefalù is enchanting and romantic, with the light colored houses located between the sea and a large, picturesque rocky hill. Furthermore, Cefalù is a medieval city but still retains traces of Greek and Roman times.
It is also a place that will enchant you with squares, streets and churches full of postcard-beauty. No wonder that director Giuseppe Tornatore chose to use Cefalù as the setting for the incredible movie Cinema Paradiso (1990).
6. Naples (Campania)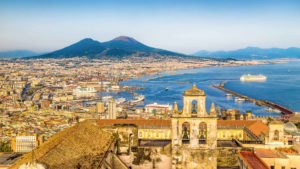 It is common to hear (even from the Italians!) that Naples is a messy, dirty city and that it is not worth visiting it. For us, this is a tremendous injustice, causing tourists to pay far less attention to Naples than it deserves.
The truth is that Naples can be a bit scary, but it can also be very, very enchanting!  Here, a certain chaos blends with a monumental and historic atmosphere; streets with graffiti and clothes hanging from the windows share space with beautiful architecture, palaces and castles; traffic is complicated, but people are friendly and cuisine is divine. In other words, Naples is a city with a soul. So, if you are one of those travelers who enjoy stories and love to get away from the obvious, Naples is a must.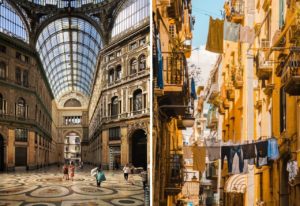 First of all, Naples has an enviable geographic location, facing the Tyrrhenian Sea and beside the mighty Vesuvius. By the way, this is the volcano that destroyed Pompeii, now one of the most interesting archaeological parks in Italy.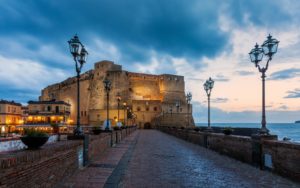 Along with this, Naples has a unique history, as evidenced by the wonderful Archaeological Museum. In addition, its historic center is a UNESCO World Heritage Site, thanks to its rich cultural, architectural and artistic heritage (such as the fantastic Cappella Sansevero). Finally, Naples is the motherland of one of the greatest symbols of Italy around the world: pizza.
In conclusion: how not to love this city? Forget about fears and prejudices and let yourself be enchanted by the unobvious beauty of Naples.
7. Alberobello (Puglia)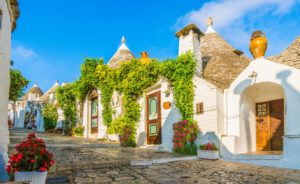 When you first arrive in Alberobello, Puglia, you might as well imagine being in a city out of a fairy tale. And that is completely ok! After all, this is one of the most picturesque Italian cities.
What makes Alberobello an incredible place are its trulli, the typical buildings of the city. In addition to being super charming, these white conical-roofed houses are an exceptional example of very old construction techniques, which crossed time and earned the city the title of World Heritage by UNESCO.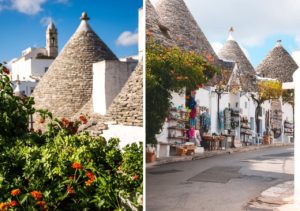 At the same time, the trulli have a curious history. It is said that in the 15th century the Kingdom of Naples imposed a new housing tax. To save money, the local nobles ordered the peasants who inhabited their land to build their houses only with stones and limestone blocks, without mortar. Thus, they could be easily "dismantled" when the collectors came, and the residents evaded the taxes. At the top, the houses were decorated with symbols that referred to whoever built the trullo, and, later, by several mystical symbols painted on the conical roofs.
Alberobello definitely deserves to be on our list of amazing Italian cities off the beaten path.
8. Procida (Campania)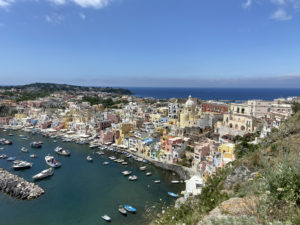 Procida is the smallest of the islands in the Bay of Naples and often goes unnoticed due to its more famous sisters, Capri and Ischia. But it shouldn't be like that, after all, Procida is pure poetry and one of the most charming Italian cities.
With its multicolored pastel-hued houses, Procida is notable for its beauty, but also for its authenticity. Here the atmosphere is calm and light, with incredible views, narrow and picturesque streets and the unbeatable charm of the small boats by the sea.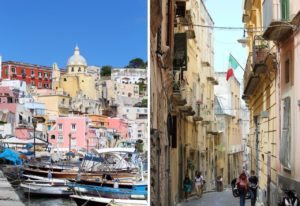 Procida was named Italian Capital of Culture for 2022, so it has been on the radar of many tourists. But its beauty has been enchanting for a long time. Proof of this is that Procida was the setting for the movie Il Postino: the Postman (1995).
9. Siracusa (Sicily)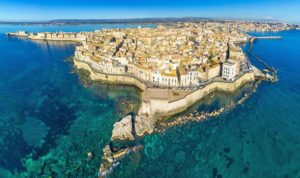 Syracuse is the city that sums up Sicily's timeless beauty like no other. For that reason alone, it deserved to be on our list of amazing Italian cities off the beaten path. But it's history that makes Syracuse so special.
It all started in 734 BC, with the Greek occupation. In its heyday, Syracuse was once the largest city in the ancient world – even bigger than Athens and Corinth! Today, Syracuse holds many wonderful Greek remains. The Parco Archeologico della Neapolis is one of the greatest archaeological sites in Sicily, filled with historical treasures from three millennia ago.
In Syracuse, ancient Greek ruins mix with charm and lush nature by the sea. Coffee tables occupy stunning baroque squares and golden-hued streets lead visitors to the sparkling blue sea. Furthermore, Ortigia, the oldest part of the city by the sea, blends elegance and casualness in a unique way.
In short: if you're looking for less-visited but unmissable Italian cities, don't forget Syracuse.
10. Bergamo (Lombardy)
Anyone who thinks that Milan is the only city in Lombardy that deserves attention is quite wrong! Of course, the capital of Italian fashion is a must. However, just two hours away is Bergamo, one of the most charming Italian cities off the beaten path.
Bergamo is a real medieval gem. Its oldest part, called the "upper city" is surrounded by a majestic 16th century Venetian defensive wall, which is a UNESCO World Heritage Site.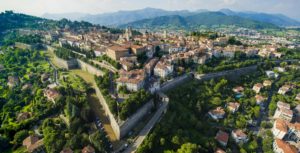 Bergamo combines a rich historical and architectural heritage with charming piazzas. Furthermore, here you will find cobbled streets that are among the most beautiful in Italy.
In short: if you want a tour of lesser-known Italian cities that are worth a visit, Bergamo is certainly one of them.
Do you feel like visiting these amazing Italian cities?
If this article made you dream of Italian beauties off the beaten path, why not start thinking about your next trip? Just get in touch with us and our team of experts will get in touch to help you create a special tailor-made itinerary!