Andrea Bocelli Under The Tuscan Sky 2024
Wednesday, July 17, 2024, at the Theater of Silence
Tuscany is a land of dreams. Traveling through it in style, with an open-air concert by Andrea Bocelli as the highlight of the trip, is an unforgettable experience!
Every year, Bocelli gives his audience a must-see event that attracts people from all over the world. In the twilight of a summer day, having a beautiful landscape as scenery, the tenor holds a prestigious show* in an open-air amphitheater, Teatro del Silenzio, located in his hometown, Lajatico.
Save the date: in 2023 the concert will take place on July 27th! 
Andrea Bocelli Under the Tuscan Sky is our travel proposal for you to enjoy that unique moment. From a conversation with you, we create a tailor-made trip in Tuscany and other Italian regions, including the Bocelli concert.
There is no fixed route: everything is organized according to your wishes and the time you have available. You can take a short or long trip, for a couple or a small group of friends, travel only in Tuscany or enhance your days with visits to Rome, Amalfi Coast, Liguria, Venice, Milan …
Whatever your itinerary, the Bocelli concert in Lajatico will be part of this incredible trip, as well as exclusive experiences and many other pampering and care as only Cieli di Toscana knows how to create.
A unique experience for a select audience!
* The detailed program of the concert is under the responsibility of the event's producers
That's how our guests feel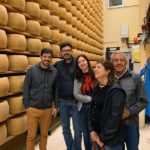 Costantin & Trajano Families
Finding Cieli di Toscana was like finding The Genie of the Magic Lamp, and having all of our wishes fulfilled.
Plan your trip
Let us transform your wishes into your dream trip
No obligation. We will get in touch to understand how we can help you design your trip.
Accommodation in the best 5 star hotels of Tuscany and other regions: Rome, Amalfi Coast, Venice, Milan and more.
Exclusive travel itinerary: we will talk to you and put together a day-by-day itinerary of the trip. We are specialists in Tuscany and other Italian regions, and we will help you to prepare the best travel itinerary, including everything the group wants to know.
Concert: tickets to the concert in the best positions of the theater, so you can enjoy the spectacle in high style.
Transportation in luxury private cars, with driver at your disposal for the tours arranged each day. So you visit each place with total tranquility and comfort.
Visits with tourist guides to the main cities of Tuscany: your group can, if you wish, get to know each place with the help of guides specialized in Tuscany, who will help you to better explore the region with all the details of history, cuisine, culture, landscapes and much more.
Guided tours and tastings at the best wineries, such as Antinori nel Chianti Classico, Castello di Brolio, the elegant Ornellaia, among others.
Travel Guide with Cieli di Toscana`s exclusive tips and suggestions for you to explore the best of the region.
Support in English by our team in Florence during the whole trip.
Much more!
Hotel Le Fontanelle
Located less than 20 km from Siena, in the heart of Chianti, Hotel Le Fontanelle is a 5-star hotel surrounded by a breathtaking view. The hotel building has medieval origin and it is located on top of a hill dominating the Sienese horizon. The property has elegant and refined rooms, elegant lounges, restaurant and spa. Hotel Le Fontanelle is a great option for those...
Tenuta di Castelfalfi
In addition to the modern structures, the hotel's most fascinating landscape is right at its doorstep: a perfect and picturesque setting overlooking the valley. This magical place is further enhanced by a wellness area featuring swimming pools and treatment areas, which mesh perfectly with the natural environment. They help create the perfect setting for experiencing a unique stay.
Plan your trip
Let us transform your wishes into your dream trip
No obligation. We will get in touch to understand how we can help you design your trip.