La Dolce Vita on The Amalfi Coast
No luxury is more precious than time. Enjoying life, savoring every second with tranquillity and style is something few people can achieve. Doing that on the Amalfi Coast then is… indescribable!
Located in southern Italy, this is a region of unique beauty. Colorful, lively cities like Sorrento and Positano overlook the blue Mediterranean Sea. Nearby lies the famous island of Capri with its air of exclusivity. In any of them, you'll be enchanted by the natural beauty, the friendliness of the people, and the festive atmosphere for which the place is known.
We offer you the La Dolce Vita on the Amalfi Coast travel plan for you to enjoy all this!
According to your preferences and how much time you have, you will experience unforgettable days enjoying the best of one of the most desirable regions of the world in style. Waking up in a five-star hotel overlooking the sea, cruising on a private yacht around Capri, driving scenic roads, wandering leisurely through local shops…
All this with a personalized itinerary, suggestions for the best to see and do in each city, and support in the English language, as only Cieli di Toscana can provide for you.
With La Dolce Vita on the Amalfi Coast, you'll only have one thing to worry about: how to best enjoy your time, moving at the pace of la dolce vita!
Get inspired and enjoy this trip of your dreams with us!
That's how our guests feel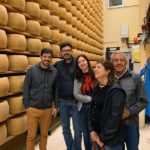 Costantin & Trajano Families
Finding Cieli di Toscana was like finding The Genie of the Magic Lamp, and having all of our wishes fulfilled.
Plan your trip
Let us transform your wishes into your dream trip
No obligation. We will get in touch to understand how we can help you design your trip.
Accommodation in the best five-star hotels in the region: Caruso, La Sirenuse, Caesar Augustus, Tiberio Palace, Quisisana, and others. All of these hotels are charming and elegant; from you're window you'll have a breathtaking landscape and the sea below!
A personalized travel itinerary with tips and suggestions to explore the main cities in the region:Amalfi, Ravello, Positano, Sorrento, Pompeii, Capri, and more.
A private boat trip: relax on a private boat, sailing through the deep blue Mediterranean Sea, and appreciate the enchanting landscape of the Amalfi Coast from its most fascinating perspective. You can also take a similar tour around Capri.
Guided tours of major cities in the region: you will learn about each location from specialized guides who will improve your exploration of the region by providing detailed information on history, gastronomy, culture, landscapes, and much more.
Transport by luxury private car with your own driver to take you through the day's visits. You'll be able to travel with complete peace of mind and comfort.
Convertible car rental: If you happen to love the road, you can also drive, taking advantage of the stunning views that emerge at every turn between mountain and sea.
VIP transfers in/out at airports and train stations, whether for the full group or parts of it, depending on the days and times everybody arrives.
Grand Hotel Excelsior Vittoria
Nestled in a beautiful location overlooking Bay of Naples, this is a wonderful five-star hotel in Sorrento. It features elegant rooms, beautiful views, great restaurants (including the Michelin-starred Terrazza Bosquet) and an elevator leading directly to Sorrento harbour.
La Sirenuse
Located high on a cliff by the sea, this exclusive hotel combines beautiful views of the Bay of Naples and the tranquillity of Anacapri. It is home to elegant apartments, balconies with sea views, a great restaurant, spa, and amazing infinity pool.
Plan your trip
Let us transform your wishes into your dream trip
No obligation. We will get in touch to understand how we can help you design your trip.