Passione - Honeymoon in Tuscany
Honeymoon is a moment of romance, sweetness and lightness. These are magical days dedicated to celebrating the new bonds of love. You deserve to enjoy them in one of the most beautiful and romantic regions of the world: Tuscany!
Here, love is in the air. Medieval towns, castles, wineries, excellent gastronomy, sunflower fields, green hills worthy of postcards … the region has everything for couples in love!
Passione – Honeymoon in Tuscany is our travel proposal to celebrate your honeymoon in high style: in 5-star hotels, in a typical villa or in a charming Tuscan castle, romantic dinners in exclusive places, wine and gastronomic experiences, private tours by bike through the landscapes of Chianti, a cabriolet car to drive under Tuscan skies, a guided tour in English in the cities, a photographer to register the magical moments and much more.
Beyond Tuscany, we can consider other Italian regions: Venice, Rome, Amalfi Coast, Piemonte, Umbria…
It is just a little sample of what we can organize for your honeymoon in Tuscany and in Italy. We are specialized in tailor-made trips and what moves us is your happiness. So, no one better than Cieli di Toscana to take care of your honeymoon.
That's how our guests feel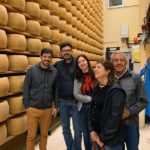 Costantin & Trajano Families
Finding Cieli di Toscana was like finding The Genie of the Magic Lamp, and having all of our wishes fulfilled.
Plan your trip
Let us transform your wishes into your dream trip
No obligation. We will get in touch to understand how we can help you design your trip.
Accommodation in the best 5-stars hotels: whether in a magnificently restored medieval villa or in a castle within a winery, there are romantic options with typical Tuscan charm: Borgo San Felice, Castello di Casole, Castiglion del Bosco, Villa Cora and much more.
Personalized travel itinerary: created according to the couple's profile. We seek to know your love story so that your honeymoon is a continuation of this story. We are experts in Tuscany, and we will help you to prepare a day-to-day itinerary of the trip with the best of the region and the most romantic experiences!
Balloon ride: perfect for more adventurous couples or for those who want a different experience! You will be able to fly over Chianti, one of the most beautiful regions of Tuscany, ending with a breakfast or picnic in the countryside, starting the day in a special way.
Bike tour: whether in the green hills of Chianti or in Florence, you can enjoy a bike ride for two, enjoying the breathtaking landscapes of Tuscany in a super charming way!
Romantic picnic: few things are as romantic as a picnic. If it is done in the middle of the bucolic Tuscan landscapes, in the gardens of a winery or in the private area of ​​a hotel, then … it is a must!
Photographic record and books: an unforgettable trip deserves to be registered! A photographer can record the best moments of your trip or even create a couple's book in the most beautiful cities and settings in Tuscany!
Rental of cabriolet supercars: what about you and your beloved driving in style on the beautiful roads and Tuscan landscapes in a BMW, Ferrari or Maserati cabriolet?
Romantic dinners in exclusive places: for you to celebrate the honeymoon or the grand finale of the trip.
SPA for two: relaxing massage, wellness and beauty treatments at the best SPAs in Tuscany, next to your love. A delightful experience!
Cooking Class: For couples who love good food, a high-class cooking class is an incredible and fun experience. Learn about typical Tuscan cuisine: fresh and stuffed pasta, the famous Italian tomato sauce and more.
Tour guides in English and other languages: get to know each place with the help of specialized guides in Tuscany, who will help you to explore the region better, with all the details of history, gastronomy, culture, landscapes and much more.
Enhance your trip: on a larger journey, beyond Tuscany, you can also include other regions of Italy: Amalfi Coast, Venice, Rome, Cinque Terre …
Surprises by Cieli di Toscana: Honeymoon is a special moment, and so we will treat your trip with cuddles and surprises to further bright your experience!
Castello di Casole
Located on a beautiful property, this is an amazing 5-star hotel. Here, traditional Tuscan charm combines with modern luxury to create an environment that is at once elegant and cozy. This is the kind of place you won't want to leave!
Villa Cora
Operating in a 19th century aristocratic mansion, this is a refined 5-star hotel. It is admirable for the grandeur and richness of its decoration, the beautiful gardens and the privileged location with an incredible view of Florence.
Plan your trip
Let us transform your wishes into your dream trip
No obligation. We will get in touch to understand how we can help you design your trip.