Piedmont: a dream trip through the lands of king Barolo
In northwest of Italy, a magical land invites us on a journey where everything exudes nobility. The nobility of the most delicate flavors, refined food, history, spectacular landscapes and time that unfolds without haste, at the pace of the good life…
This is Piedmont — an enchanted realm for the senses.
In the heart of the region, Barolo, the king of wines, leads a royal family of flavors and aromas. Beside it, comes the Queen White Truffle, whose unique scent is coveted around the world. Following them, chocolate, hazelnut, coffee, cheese … All this amidst a landscape of undulating hills covered with vineyards, which, due to their beauty, were declared by UNESCO as a World Heritage Site.
Piedmont – A dream trip through the lands of King Barolo is our proposal for you to visit the region on a leisurely trip, to be relished with exclusivity and delicacy. The days will be dedicated to long meals, endless tastings, afternoon naps and the irrevocable right to savor time.
In addition to the indulgences of the Langhe, Piedmont offers more. The capital Torino, the birthplace of the Italian republic, exudes nobility and elegance. Framed by the Alps, its well-preserved historic center invites you for quiet walks among elegant caffès and luxury shops. The surrounding area offers palaces and majestic gardens. To the east there is the glamour and romanticism of Lake Maggiore, with elegant belle époque-style villas bordering the lake where lies Isola Bella.
On this trip, there is no fixed itinerary. Everything is organized according to your wishes. We talk to you, understand what you are looking for and plan the trip for you, suggesting the best places and experiences.
Come with us and let yourself be seduced by the charms of the land of its Majesty, King Barolo!
That's how our guests feel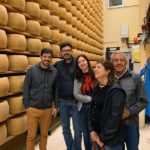 Costantin & Trajano Families
Finding Cieli di Toscana was like finding The Genie of the Magic Lamp, and having all of our wishes fulfilled.
Plan your trip
Let us transform your wishes into your dream trip
No obligation. We will get in touch to understand how we can help you design your trip.
Accommodation in region's best five-star hotels, surrounded by beautiful landscape and great tranquility: Il Boscareto, Relais San Maurizio and more.
Guided tours and tastings at the best wineries, such as Gaja, Marchese di Barolo, Ceretto, Bruno Giacosa, Conterno Fantino and others, where you can taste the best Barolos and Barbarescos wines.
A personalized travel itinerary with tips and suggestions about the best of the region's major cities: Alba, Serralunga d`Alba, Barbaresco, Barolo, Turin, Stresa and others.
Delighting in Michelin-starred restaurants: Piedmont is plenty of top-rated restaurants where you can eat like a king. How about discovering the best of Piedmont's cuisine and wine?
Truffle tasting: in Alba, the city of the tartufo bianco (white truffle), you can enjoy a guided tasting of products based on this famous delicacy at one of the most renowned producers of the region.
Truffle hunting: depending on the season, it is possible to have a memorable experience hunting it in the woods with professional hunters.
Coffee circuit: in a circuit guided by a specialist, you will be taken to visit artisan coffee roasters, with tastings of products from diverse origins.
Chocolate tour: Piedmont produces globally renowned and award-winning chocolates. In this experience, you can visit some of the region's best chocolate artisans, tasting incredible flavors!
Guided tours in the most interesting cities: You will get to know each place with specialized tour guides who will help you explore better the region, with all the details of its history, art, gastronomy, culture, landscapes such as Sacra di San Michele and the majestic palaces and gardens of Venaria Reale.
Luxury private car transportation, with a chauffeur at your service for the tours arranged for each day. That way you can go sightseeing with complete tranquility and comfort.
Convertible car rental: if you are someone who loves the road, you can also drive on the roads yourself, taking advantage of the stunning views that come around each curve surrounded by green hills the green hills.
Villa e Palazzo Aminta
Located on the shores of Lake Maggiore, this Belle Epoque gem exudes the elegance and romanticism of that era and offers one of the most beautiful landscapes on the lake, with direct views of Isola Bella. Waking up to this setting on a beautiful sunny day is an inspiring and unforgettable experience.
Principe di Savoia
With its beautiful neoclassical façade, this is one of Milan's most charming hotels. Elegantly decorated, the hotel rooftop offers a spa and beauty center, heated pool, sauna, jacuzzi, and gym. The hotel bar is charming all on its own, as is the restaurant, where, depending on the weather, you might eat outside in a beautiful garden area.
Plan your trip
Let us transform your wishes into your dream trip
No obligation. We will get in touch to understand how we can help you design your trip.