Romanzo - Honeymoon in Italy
Which qualities characterize romance? Dreamlike, fantasy, passion and novelty. That's why little else captures the essence of romance better than travel!
With Romanza: Honeymoon in Italy we offer you the chance to celebrate your honeymoon in high style: five-star hotels, romantic dinners, wine-tasting and gastronomical experiences, open-air drives in a convertible along charming routes, private boat trips and much more.
Italy is the embodiment of romance. From the North to the South, numerous cities await, inviting you to celebrate your love.
Venice, with all its magic, almost leaps from the pages of a fantasy novel. Its bridges, canals and labyrinth of narrow streets, where it is a delight to lose oneself, are perfect for lovers. Situated nearby is Verona, the land of Romeo and Juliet. Tuscany is fantastically alluring with its wine-growing medieval towns, superb gastronomy and postcard-perfect sunflower fields and vineyards. Further south, Rome, the Eternal City, exudes sensuality and beauty while inviting you to experience romantic indulgences such as taking strolls through its historic sites and dining on gastronomic delights at incredible restaurants. And how about the charming Capri & Amalfi Coast, dotted with colorful cities overlooking the Mediterranean sea?
Not to mention Piedmont, Umbria… You deserve to enjoy your honeymoon in this most romantic of all destinations!
This is just a small taste of what we can organize for your honeymoon in Italy. All aspects of the trip can be tailor-made following an initial consultation with you. We specialize in bespoke tours and are motivated by your happiness. That's why no one else will take better care of your honeymoon than Cieli di Toscana.
Celebrate your love with us!
That's how our guests feel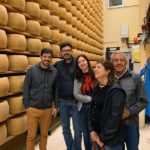 Costantin & Trajano Families
Finding Cieli di Toscana was like finding The Genie of the Magic Lamp, and having all of our wishes fulfilled.
Plan your trip
Let us transform your wishes into your dream trip
No obligation. We will get in touch to understand how we can help you design your trip.
Accommodation in the best five-star hotels: whether in a magnificently renovated medieval villa, a castle beside a vineyard, a luxury city hotel or one with a sea view, the romantic options abound!
A unique travel itinerary: tailored to the couple's profile. We aim to learn about your love story so that your honeymoon can be the perfect continuation of this story. The regions we offer are our specialty and we'll help you to create a travel itinerary that encompasses the best of each region as well as the most romantic experiences!
A balloon or bicycle ride in Tuscany: perfect for more adventurous couples or those wishing to have a unique, particularly delightful experience!
Private boat trip: if your journey includes the Amalfi Coast and Capri, how about sailing with your love aboard a private boat through the deep blue Mediterranean?
Romantic picnic: little else surpasses a picnic in terms of pure romanticism. Whether in the midst of a peaceful rural landscape, the gardens of a vineyard or the private area of a hotel, it will be unmissable!
Photographs and albums: an unforgettable trip deserves to be recorded! A photographer can capture the best moments of your trip and can even create an album showcasing the couple among the cities and most beautiful scenery!
Convertible car rental: how about you and your partner going for a drive in great style along stunningly beautiful roads and landscapes in a BMW, Ferrari or Maserati convertible?
Romantic dinners at exclusive locations: for you to celebrate your honeymoon or the grand finale of your trip.
Spa for two: relaxing massages including wellness and beauty treatments at the best spas, beside your love. How delightful!
Cooking Class: for couples that love good cuisine, a culinary class in high style is an amazing, fun experience. Learn about typical Italian cuisine: fresh and stuffed pasta, renowned Italian tomato sauce and more.
Guided tour in English: learn about each location from specialized guides who will enhance your exploration of the region by providing detailed information concerning history, gastronomy, culture, landscapes and much more.
Pampering and surprises the Cieli di Toscana way: Your honeymoon is a special time which means we'll brighten up your experiences on the trip even more with our pampering and surprises!
Belmond Villa San Michele
Combining 14th-century architecture with the ethereal beauty of the region, Belmond Villa San Michele is as inspiring as Florence's galleries and cathedrals. The facade, attributed to Michelangelo, is surrounded by lush woods and terrace gardens, the perfect place to admire the views of Florence and the Chianti hills.
Tenuta di Castelfalfi
In addition to the modern structures, the hotel's most fascinating landscape is right at its doorstep: a perfect and picturesque setting overlooking the valley. This magical place is further enhanced by a wellness area featuring swimming pools and treatment areas, which mesh perfectly with the natural environment. They help create the perfect setting for experiencing a unique stay.
Grand Hotel Excelsior Vittoria
Nestled in a beautiful location overlooking Bay of Naples, this is a wonderful five-star hotel in Sorrento. It features elegant rooms, beautiful views, great restaurants (including the Michelin-starred Terrazza Bosquet) and an elevator leading directly to Sorrento harbour.
Hotel Caruso
In the picturesque town of Ravello, this is the top five-star hotel on the Amalfi Coast. Here, charm, elegance and top-notch services come together to create an unparalleled atmosphere. Highlights include gardens, a swimming pool with breathtaking views, and a restaurant serving excellent cuisine with the perfect view.
Villa Cora
Operating in a 19th century aristocratic mansion, this is a refined 5-star hotel. It is admirable for the grandeur and richness of its decoration, the beautiful gardens and the privileged location with an incredible view of Florence.
Relais san Maurizio
This property, which bears the prestigious Relais & Chateaux seal, is located on the site of a former 17th-century monastery, atop a vineyard-covered hill in Langhe. It is a charming and refined hotel with a Michelin-starred restaurant, Guido da Costigliole.
Plan your trip
Let us transform your wishes into your dream trip
No obligation. We will get in touch to understand how we can help you design your trip.