When the cold, drab winter days draw to an end, nature is ready to be reborn and become abundant again with life and beauty. Spring, the season of flowers and love, has arrived. The perfect time to travel!
Italy is at its finest during this season. The climate is mild – the cold has gone and the summer heat has yet to arrive – the days are bright, the fields in flower and the vineyards turning green. The cities reawaken and host a medley of interesting cultural and artistic events, such as shows and fairs.
Whether in romantic Tuscany, noble Piedmont, on the charming Amalfi Coast or in some other city or region, Italy in spring is magical and invites you on an unforgettable journey!
Your trip is not restricted by a fixed itinerary. Everything is arranged according to your requirements. Following an initial consultation, we create a personalized tour based on your interests and our recommendations of the best sites and experiences.
Your journey could be a romantic trip for two or you could spend it with family and friends, for however many days as you wish. Whatever your choice, you can count on our five-star services, a personalized itinerary and Portuguese-language concierge service throughout your travel.
Come experience the spring in Italy!
That's how our guests feel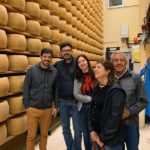 Costantin & Trajano Families
Finding Cieli di Toscana was like finding The Genie of the Magic Lamp, and having all of our wishes fulfilled.
Plan your trip
Let us transform your wishes into your dream trip
No obligation. We will get in touch to understand how we can help you design your trip.
Accommodation in the best five-star hotels: whether in a magnificently renovated medieval villa, a castle beside a vineyard, a luxury city hotel or one with a sea view, the incredible options abound!
A unique travel itinerary, tailored to your profile: We create an itinerary that is personalized according to your interests and requirements. The finest experiences and most interesting events of spring – concerts, exhibitions, fairs – as well as the best that each city and region has to offer!
Guided tour in Portuguese: learn about each location in detail from specialized guides who will enhance your exploration of each region by providing fascinating insights into its history, gastronomy, culture, landscapes and much more.
Tastings: chocolate, truffles, coffee, cheese, wine… each region has its own specialty and we can arrange guided tastings at the best sites!
Private boat trip: if your journey includes the Amalfi Coast and Capri, how about celebrating the splendor of the season and your travels by setting sail aboard a private boat through the deep blue Mediterranean?
Picnic: little else embodies the essence of spring as perfectly as a picnic. Whether in the midst of an idyllic rural landscape, the gardens of a vineyard or the private area of a hotel, it will be unforgettable!
A balloon or bicycle ride in Tuscany: Enjoy the scenery from a fresh perspective! Perfect for more adventurous travelers or those seeking a unique and particularly delightful experience!
Guided visits and tastings at the finest vineyards, such as Antinori nel Chianti Classico and Biondi Santi in Tuscany, Masi and Allegrini in Veneto, Marchesi di Barolo and Ceretto in Piedmont, and more.
Convertible car rental: how about going for a spin in great style along stunningly beautiful roads and landscapes in a BMW, Ferrari or Maserati convertible?
Luxury private car: with your own personal chauffeur to drive you between the visits arranged for each day. Imagine traveling so effortlessly and in great comfort while making the most of the spring landscapes along the way!
Caesar Augustus
Located high on a cliff by the sea, this exclusive hotel combines the beautiful view of the Bay of Naples and the tranquility of Anacapri. It features elegant rooms, terraces with sea views, a great restaurant, SPA and a fascinating infinity pool.
Four Seasons Florence
The best and most exclusive hotel in Florence. Elegant, luxurious and sophisticated, with impeccable service. It is connected to the beautiful Giardino della Gherardesca, the largest private garden in Florence. Its restaurant Il Palagio is Michelin starred.
Plan your trip
Let us transform your wishes into your dream trip
No obligation. We will get in touch to understand how we can help you design your trip.