Imagine the scene: you are together with dear family and friends. Everyone is laughing and having fun. Quiet days, stunning landscapes, wines, colors, flavors, unforgettable moments… The setting? A typical villa in the Tuscan countryside, a film-worthy setting we've always imagined!
Come experience Tuscany, and celebrate life in a way only a lucky few can! The Tuscan Life is a travel option for you to enjoy days of "dolce far niente" – 'sweet ideleness' – in the region, in a luxury villa or country house, together with family or dear friends.
Whether you're celebrating a special occasion, like a wedding or birthday, or enjoying a vacation with someone you love, this offering is truly special. It's a perfect experience for anyone who wants exclusivity.
There is no fixed itinerary: everything is arranged according to your group's requirements. The trip is tailored to your group, combining the privacy and comfort of a villa with experiences and services that will help you discover the beauty and delights of Tuscany, enjoying the ultimate luxury of life: time!
That's how our guests feel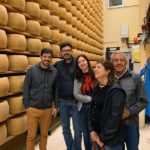 Costantin & Trajano Families
Finding Cieli di Toscana was like finding The Genie of the Magic Lamp, and having all of our wishes fulfilled.
Plan your trip
Let us transform your wishes into your dream trip
No obligation. We will get in touch to understand how we can help you design your trip.
Villa rental: we find the ideal villa for your group, according to your requirements, in the main areas of Tuscany: classic Chianti, picture-perfect Val D'Orcia, cinematic Arezzo and Cortona, and more;
Comfort and care: we can provide all the support services you need so your stay in the villa is impeccable: shopping, breakfast, lunch and dinner, daily cleaning, etc.
A unique travel itinerary, created according to the wishes of your group.We'll talk to you and put together a day-to-day travel itinerary. We are experts on Tuscany and other regions of Italy, and we help you design the best travel itinerary with everything you want to see and do.
Guided tour of major cities in Tuscany: if you want, your group can learn about each location from guides specialized in Tuscany who will enhance your exploration of the region by providing detailed information on its history, gastronomy, culture, landscapes and much more.
Arranging special dinners: to celebrate a memorable date or as the grand finale of your trip, how about a dinner prepared by a chef, exclusively for your group, at the villa itself?
Special experiences: guided bike tours of Tuscan landscapes, Ferrari tours along amazing roads, balloon flights… all to enhance the travel experience!
Visits to wineries: we take the group to explore the amazing world of Tuscan wines through guided tours and tastings at some of its main wineries: Antinori nel Chianti Classico, Castello di Brolio, the legendary Biondi Santi, Castello Banfi, and others.
Tastings of local products: cheese, truffles, olive oil, sausage, ham, and more.
Photographs and albums: an unforgettable trip deserves to be recorded! A photographer can be present to capture the best moments between friends or family on your trip.
Luxury minibuses/minivans with a driver for the group to take you on each day's planned excursions.
VIP transfers in/out at airports and train stations, whether for the full group or parts of it, depending on the days and times everybody arrives.
Tenuta di Castelfalfi
In addition to the modern structures, the hotel's most fascinating landscape is right at its doorstep: a perfect and picturesque setting overlooking the valley. This magical place is further enhanced by a wellness area featuring swimming pools and treatment areas, which mesh perfectly with the natural environment. They help create the perfect setting for experiencing a unique stay.
Hotel Le Fontanelle
Located less than 20 km from Siena, in the heart of Chianti, Hotel Le Fontanelle is a 5-star hotel surrounded by a breathtaking view. The hotel building has medieval origin and it is located on top of a hill dominating the Sienese horizon. The property has elegant and refined rooms, elegant lounges, restaurant and spa. Hotel Le Fontanelle is a great option for those...
Plan your trip
Let us transform your wishes into your dream trip
No obligation. We will get in touch to understand how we can help you design your trip.