What to do in Venice: 17 tips for 2-day or 3-day itineraries
Romantic, magical, elegant and mysterious: Venice is all that and much more. It is unlikely not to fall in love and not willing to discover everything you can do in Venice! After all, this is one of the most amazing cities in Italy. 
Its 118 small islands separated by channels and joined by bridges make Venice's geography unique. Walking unhurriedly in this tangle of beauties is a delight. However, there are also architectural wonders, museums, palaces, churches, cafes and much more. In short: it is no wonder that the city and its lagoon are a UNESCO World Heritage Site.
If you are dreaming of a trip to Italy and want to include Venice in your itinerary, you are in the right place. In this article, we will give you 17 tips of what to do in Venice to enjoy its best on 2-day and 3-day itineraries.
Enjoy your reading!
Venice is a place full of charm and history
We already guarantee: Venice, besides being very charming, is also a place full of history. Did you know that the capital of Veneto was once one of the most powerful cities in Europe?
Because of its special geographical position, Venice was for many centuries an important commercial stop for travelers to and from Europe to the Arab world. It gave the city a unique air: cosmopolitan, rich and grandiose, which still enchants today!
Whether riding a gondola along the canals or taking a walk through the maze streets, Venice is unmissable.
If our brief introduction to this magical city has sharpened your curiosity of what to do in Venice, then join us in this article for 17 must-see tips.
Are you ready?
What to do in Venice in 2 days?
Known by the nickname "La Serenissima", Venice is enchanting and deserves to be enjoyed without rush. Therefore, our suggestion is to do at least a 2-day tour in Venice. A 3-day tour is even better. The more time you spend there, the more you find out of everything you can do in Venice
1. Exploring the Basilica and St. Mark's square (Piazza San Marco)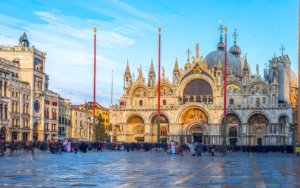 Piazza San Marco is without a doubt the heart of Venice. This square houses some of the most famous buildings in the city such as the Clock Tower, the Campanile and the wonderful Basilica di San Marco (St. Mark's Basilica), a true architectural gem inside and outside. Its mosaics and Byzantine features will enchant you with its blend of East and West. Piazza San Marco is also home to many cafes and restaurants, perfect for relaxing and enjoying the view. That is why exploring the square and its surroundings is the first on our top list of what to do in Venice.
2. Climbing the Campanile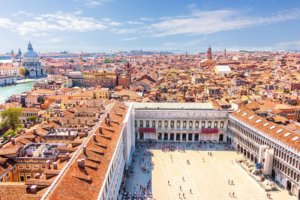 How about an incredible 360º view of Venice? That is what you get when you go up the iconic Campanile di San Marco (St. Mark's Campanile). The tower that dominates Piazza di San Marco offers a unique panorama for all visitors. It is 98.5m high (323 ft.) and the elevator quickly takes you to the top. In other words, you do not have to climb the stairs! Finally, a curiosity about the tower: did you know it is not the original Bell Tower? What we see today is a perfect reconstruction, opened in 1912 after a collapse in 1902.
3. Visiting the Doge's Palace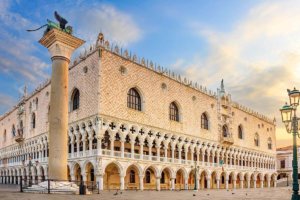 The Doge's Palace (Palazzo Ducale) was founded in 1424 and it is one of the most important symbols of Venice. This monumental palace was the luxurious official residence of the Venetian Republic's governors. Often regarded as a true work of art, the palace should be on your top priority of what to do in Venice. Dedicate at least 3 hours to visit its many places in details: the magnificent atrium, the Scala dei Giganti, the Porta della Carta, the sumptuous Sala del Maggior Consiglio, the Doge's apartments, the prisons and much more. Finally, an extra tip: it is also possible to make some secret itineraries of the Palace, with the presence of specialized local guides!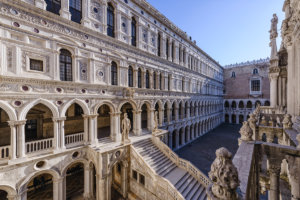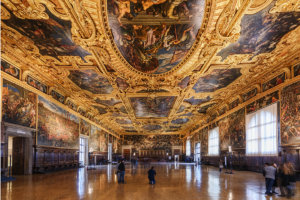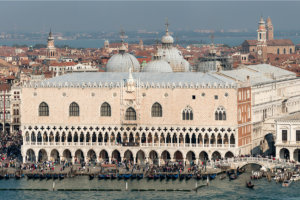 4. Admiring the Bridge of Sighs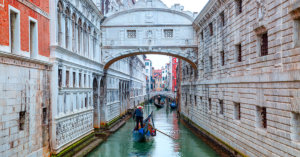 It is one of the most famous bridges in Venice. First, because of its beauty. The Bridge of Sighs (Ponte dei Sospiri) was built in 1603 with white limestone and Renaissance characteristics and it enchants for its great harmony. Second, by the legend surrounding its name. At first glance, it refers to romance, right? However, the bridge is named because it connects the Ducal Palace (former center of justice in Venice) to the Prigioni Nuove (new prisons) and it is said that, when crossing it, the convicted prisoners sighed with sadness when they saw the world out there for the last time. Therefore, admiring the Bridge of Sighs should be in your list of what to do in Venice.
5. Passing by the Rialto Bridge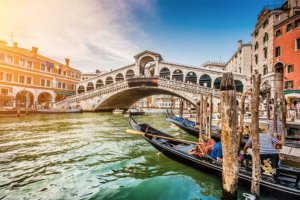 Incredibly beautiful: the Rialto Bridge (Ponte di Rialto) is the longest and oldest bridge that crosses the Grand Canal. Made up of two ramps and adorned with arches, this bridge was built in 1591 and it is one of Venice's postcards. For that reason itself, you should consider crossing the Rialto Bridge in your plans of what to do in Venice. Besides its beauty, the bridge is also a privileged place to observe the Grand Canal, which is especially beautiful at sunset. It is also overcrowded: every day hundreds of ferries, water taxis and, of course, the famous gondolas pass under it.
6. Visiting the Rialto Market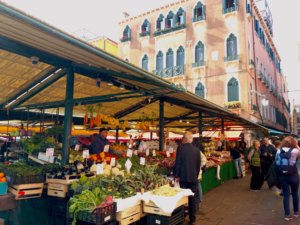 Who loves the typical buzz of the markets or simply wants to add an authentic tour to the list of what to do in Venice cannot miss the Rialto Market. First, you will find many fish, octopuses, crustaceans and shellfish of all kinds. After all, this is the culinary specialty of Venice. It is where the best restaurants and chefs in town come to get fresh products. Besides, you will also be enchanted by the colors and beauty of the fruits, vegetables and spices. In sum: a perfect place to watch the Venetians' daily life!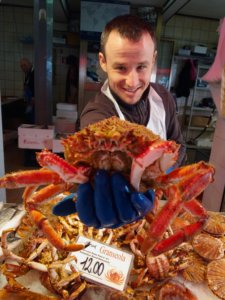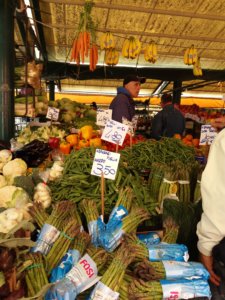 7. Admiring Tintoretto at Scuola Grande di San Rocco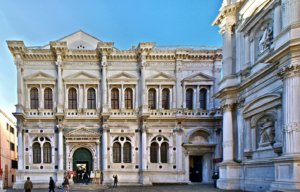 Scuola di San Rocco  is one of the most amazing places in Venice. Its building is home to a religious brotherhood and to some of the best works by the great painter Tintoretto. The ceilings and walls on both floors of the building are completely covered by paintings by this Italian genius, making it the largest collection of works by the same artist in the world! Besides, the floors have geometric designs, the frames are carved, the details are in golden color and much more. Every inch is full of beauty. You could definitely include Scuola Grande di San Rocco when deciding of what to do in Venice!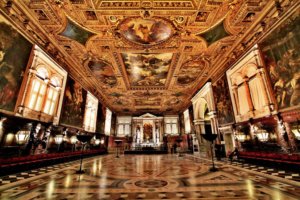 8. Visiting the Basilica of St. Mary of Health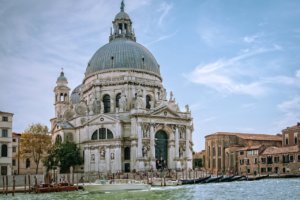 The majestic Baroque-style basilica is one of the testimonies of Venetian's faith. It is because it was built as a promise to end the plague that ravaged the Veneto in the 1630s, killing tens of thousands of people. The legend says that Giovanni Tiepolo, patriarch of Venice at that time, promised to build the basilica and dedicate it to the Holly Virgin, calling it Santa Maria della Salute. That is how it was done and today, you can visit this magnificent architectural work, which is built on more than a million piles in the water, close to Punta della Dogana.
9. Gondola ride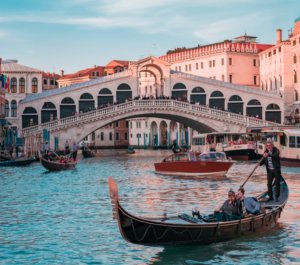 It is a classic! Gondola rides through the mythical canals could not be mised in our suggestions for the ones who look for what to do in Venice. Surely, this is one of the most romantic activities to do in the city. The best thing is to schedule a gondola ride at sunset / early evening, to enjoy Venice in the most beautiful colors. This is one of the activities we can plan for you on a customized trip.
10. Being enchanted by the Venetian art at the Galleria dell'Accademia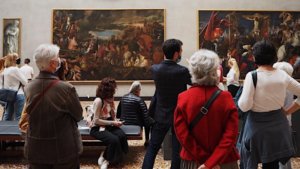 Do you love art especially paintings? If so, you need to visit the Galleria dell' Accademia in Venice. It was the city's former school of fine arts founded in the 1700s. Nowadays, it houses a wonderful museum with the largest collection of Venetian art in the world spreaded in 37 rooms of the impressive complex of Santa Maria della Carità, which has a church and a monastery as part of it. You will find some work of art of Tintoretto, Tiziano, Bosch, Bellini, Canaletto among other geniuses. A curiosity: it is in the Galleria dell'Accademia that Leonardo da Vinci's famous drawing "Vitruvian Man" is located. In summary: unmissable!
11. Having coffee or an aperitif at the historical Caffè Florian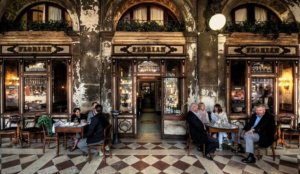 When traveling to Venice, you should not miss the opportunity of going to Caffè Florian. First, it was founded in 1720 and it is the oldest coffee shop in the world still in operation! Intellectuals and writers like Charles Dickens, Proust, Goethe and Lord Byron had been there. Besides, the atmosphere is absolutely elegant and romantic, referring to the charm of ancient times. The last but not the least is the location: Caffè Florian is right in the middle of Piazza San Marco. In other words: when thinking of what to do in Venice, consider going to Caffè Florian for coffee or an aperitif (we suggest the "Bellini", a classic of Venice!).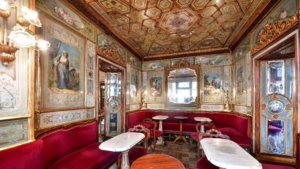 12. Seeing the best of modern art at the Peggy Guggenheim Collection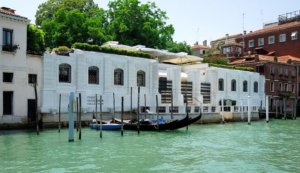 Art lovers in Venice can experience beyond the Renaissance classics. The palazzo on the Grand Canal was once home of the eccentric American collector Peggy Guggenheim. Nowadays, it is a museum that has his name and exhibits incredible works of modern art from the 20th century. Great part of what you see there belonged to Guggenheim's lifetime personal collection. There are works of art by Picasso, Jackson Pollock, Max Ernst and Alberto Giacometti, Kandinsky, Dali and many others. In sum: a must see.
What to do in Venice in 3 days?
If you have more than two days in the beautiful capital of Veneto, there is much more to do in Venice than we have already listed. We recommend doing the script above and adding the following suggestions. After all, Venice is a historical and beautiful city that deserves to be entirely explored!
13. Visiting Murano and admiring its colorful glasses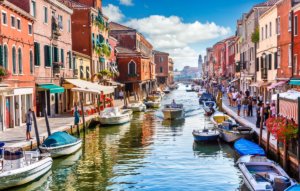 Murano is an island (actually seven small islands) located about an hour from the center of Venice and it is well known by its production of colorful glasses. For centuries, the refined techniques brought fame to Murano in the production of luxury glass. Nowadays, Murano glass is an essential part of the Venetian esthetic and it is worth visiting the city to see the artisans and shops of this unique product. Definitely, if you are looking for what to do in Venice and surroundings, Murano should be on your itinerary.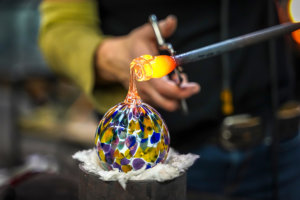 14. Being enchanted by the colors and laces work of Burano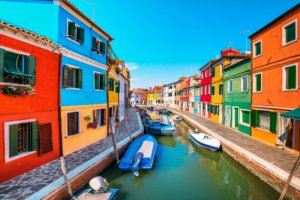 Together with Murano, Burano is a charming island city in the Venetian Lagoon. Burano attracts visitors due to its brightly colored houses. The houses are painted in different colors, giving a picturesque and photogenic environment to the city. Furthermore, Burano is also known by its handmade lace works, appreciated before by the European aristocracy. Among the attractions are the 16th-century San Martino's church and its leaning bell tower – which is one of the first things you notice when you arrive in the city – as well as a Lace Museum.
15. Visiting the Jewish ghetto in Venice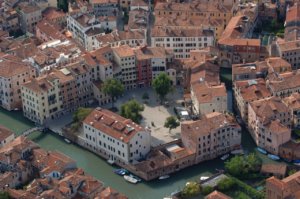 Visiting the Jewish Ghetto of Venice is an interesting tour for the ones who look for what to do in Venice. First, a curiosity: did you know that this was the first ghetto in the world (in fact, the word ghetto comes from Italian)? It was created in 1516, when the Republic of Venice restricted the movement of Jews. Currently, you can learn more about this part of Venice's history by visiting countless synagogues, Jewish restaurants, delicious bakeries and a museum. In short, a beautiful source of culture and history!
16. Guided visit at Teatro La Fenice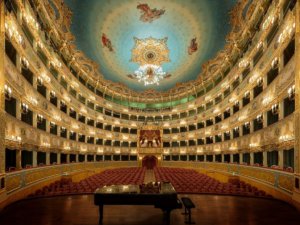 This is the main opera house in Venice and its name ("the phoenix theatre") has a reason. It is because La Fenice was originally built in the 1700s, but it was destroyed twice by fire and then rebuilt. Nowadays, thanks to restoration work, Teatro La Fenice maintains the elegant and splendid environment of the past. If you are looking for something extra to include in the list of what to do in Venice in 3 days, you can take a guided tour to discover this beautiful and historical place. Besides, the ones who come to Venice during the opera season can experience the glamour of La Fenice and certify its world-renowned acoustics.
17. Attending exhibitions at the elegant Fondazione Prada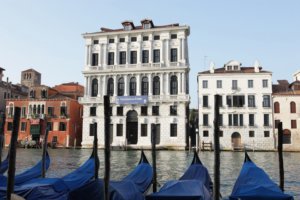 Fondazione Prada is the headquarters of the luxury Italian brand in Venice. The majestic Baroque-style palazzo hosts contemporary art exhibitions, often as bold and innovative as Prada itself. If you are looking for something different to include in the list of what to do in Venice, here is the tip. Checking the Fondazione Prada schedule is always a good option.
How about experiencing of what to do in Venice?
Now that you know what to do in Venice, you can start taking your dream-trip off the ground.
To ensure that the choices fit your travel profile, you could count on the help of those who know well the destination, such as Cieli di Toscana. 
Our team of specialists in Italy can prepare a tailor-made trip for you, including all the services you desire.
The itineraries will be entirely customized based on your preferences. You will have access to useful information and suggestions of the best of each city. We only recommend places that we have already traveled to and visited, so you do not have bad surprises during your trip.
There is even more! Arriving at your destination, you and your family will not be "alone" in Italy. Our local English-speaking team will help you make your experience even more complete and peaceful. To prove it, see what some of the people who have traveled with us say!
Let us start planning your trip? Contact us and figure out what we can do for you in Italy!