Andrea Bocelli in Tuscany: what is this experience like?
If you're an Andrea Bocelli fan, you've probably already heard about the tenor's annual concert in Lajatico, Tuscany. And if you haven't heard of it yet, but love incredible travel experiences in Italy, maybe it's time to get to know it. After all, Andrea Bocelli in Tuscany is a perfect combination of music, art, landscape and history!
In this post, we'll tell you all about this unique spectacle, which is one of the most famous summer events in Tuscany. So, if you want to know more about the show, the place where it happens and what it's like to live this experience, come with us!
Good reading!
Andrea Bocelli in Tuscany: a concert with a story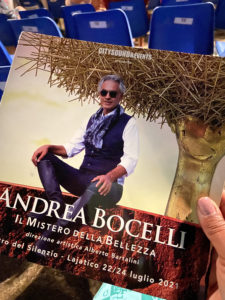 The first thing you should know about Andrea Bocelli's classic concert in Tuscany is that it is a show with a story. And that, of course, makes everything even more interesting. The show takes place in Lajatico, which is the tiny town where Bocelli was born.
But why in Lajatico? After the tenor became world famous, he wanted to pay homage – through music – to his homeland, his roots and his history. As a result, since 2006, every year Bocelli returns to his hometown to perform and fulfill the tradition. Isn't it beautiful?
Where to see Andrea Bocelli in Tuscany? Discover Teatro del Silenzio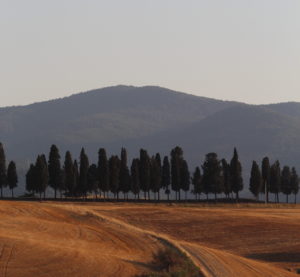 But even more beautiful is the place where Andrea Bocelli's concert in Tuscany takes place. To start with, the name is quite poetic: Teatro del Silenzio (Theatre of Silence). Besides that, its construction was an idea of ​​Alberto Bartalini, a friend of Bocelli.
As we've already said, the theater is located in the hills of Lajatico, Andrea Bocelli's birthplace. But the best part is that it is an open-air amphitheater where a beautiful landscape forms the backdrop to the stage. It is an eco-architecture that makes perfect use of the natural forms of the landscape.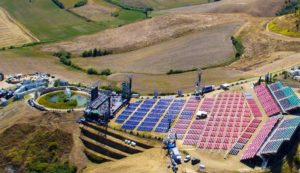 Imagine those classic gentle Tuscan hills, with cypresses and beautiful colors. That's what you appreciate at Teatro del Silenzio, besides, of course, Bocelli's music. In addition, Teatro del Silenzio has sculptures by contemporary artists. In short: unforgettable.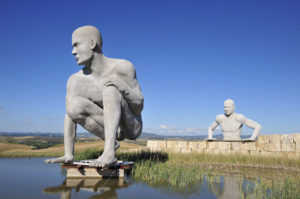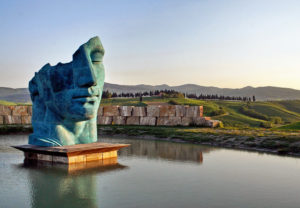 One important thing to know about Teatro del Silenzio is that it is literally in the middle of the Tuscan countryside. On the one hand this guarantees a breathtaking landscape. On the other hand, all the displacements inside the theater (such as going to the restrooms or buying drinks) and also the walk you need to do from the parking lot to the venue itself is done on uneven and unpaved terrain. High heels are not recommended, and a jacket is worth it!
However, with the right travel itinerary, like Andrea Bocelli Under the Tuscan Skies, you can have access to the VIP parking, which is right behind the stage and much easier to access. Thus, the experience is much more comfortable.
Finally, a curiosity: the name of the theater refers to the fact that it was designed for one (maximum two) concerts throughout the year. That's when it comes alive, bringing people from all over the world to enjoy Andrea Bocelli in Tuscany. During all the other days, it remains silent.
What is the concert like?
Fantastic" is perhaps the right word to define it. First, because of the beauty of the place, as we've already said. Second, because the show takes place in the twilight of a summer night in Tuscany, with the colors of the sunset beautifying everything. But there is more.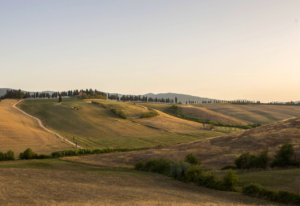 Every year, the show has a different theme and has special guests. Among the famous names who have been with Andrea Bocelli in Tuscany are Laura Pausini, Jose Carreras, Placido Domingo, Pino Daniele, Zubin Mehta, Toquinho, Lang Lang, Sarah Brightman, Dua Lipa and many, many others.
Besides, it's more than a musical show. You will always find representatives of other arts such as dance, theater and mime. So it's always a real surprise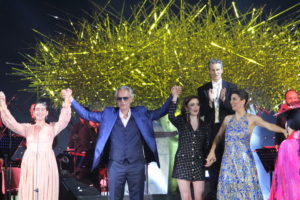 Andrea Bocelli's concert in Tuscany usually lasts around 2h30min, with a break in two parts. An interesting thing is that it usually starts around 8pm, around sunset, which makes everything much more special.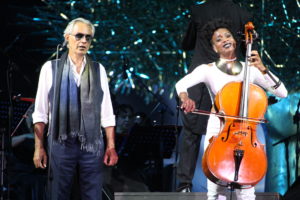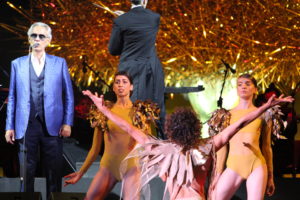 More details about the Andrea Bocelli in Tuscany experience
The right ticket makes all the difference
As you can see, it's amazing to see Andrea Bocelli in Tuscany at an open-air concert in his hometown. However, there are some details that can make the experience more special.
The first is the type of ticket you will choose. Teatro del Silenzio offers different types of tickets, depending on the distance from the stage. The best, most expensive and sought-after are those of the Executive sector. In addition to ensuring that you can watch Bocelli a few meters from the stage, they are also the only ones that include access to the VIP parking, which is super close to the stage.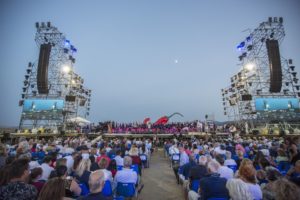 If you've never been to the event, this might not seem important. But it is a huge advantage, as with the other tickets you have to leave your car at the base of the hill and walk up or park in La Sterza and from there take a shuttle to the theater. All of this can be tiring before, but especially after the show, when you're tired.
Another advantage of the Executive sector is access to an exclusive pre-show cocktail. This makes the experience much more exclusive, as you won't have to join the long lines to eat or drink before the show. In other words, having an Executive ticket makes all the difference in the experience of watching Andrea Bocelli in Tuscany. Especially if you are on an upscale Italy trip.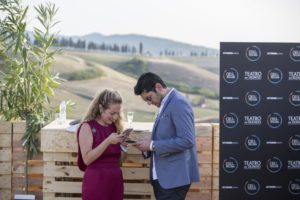 Where to stay to watch Andrea Bocelli in Tuscany?
Lajatico is close to Pisa (about 50min by car), San Gimignano (40min) and Volterra (30min). Therefore, the ideal is to choose a hotel in the near these cities. Lajatico itself is a tiny town and doesn't offer good accommodation options.
Choosing a good place to stay is important because Andrea Bocelli's concert in Tuscany is a famous event and it usually attracts a lot of people, who come from all over the world. The result is heavy traffic to and from the show. Therefore, the better located you are, the better the experience.
An important detail is that the best hotels in the region (including 5-star and 4-star hotels) tend to be fully booked as soon as the concert date is announced each year. Therefore, it is important to book the best accommodations in advance. After all, a unique experience like this deserves an unforgettable trip.
How to get to Teatro del Silenzio?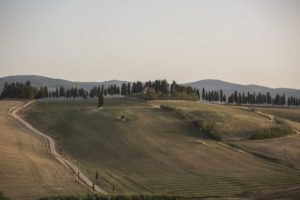 There are two options. You can rent a car or hire a transfer. Car rental has the disadvantage that you have to drive (as we said, traffic can be annoyingly intense when arriving and leaving Teatro del Silenzio) and park. In addition, the demand for cars in this period is intense, which raises prices and reduces the supply of better vehicles.
On the other hand, with a transfer you have a more relaxed experience more . On the way, you can take your time on the road to enjoy the beautiful landscape. On the way back, you can just rest in the backseat, relaxing and remembering every moment of a unique night. So, it's definitely better to have a private transfer at your disposal, especially if you're on a special trip and want it to be unforgettable.
Is it worth watching Andrea Bocelli in Tuscany, at Teatro del Silenzio?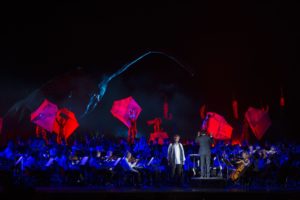 Definitely yes! If you like Andrea Bocelli or unique experiences, this is undoubtedly an event to include in your travel itinerary to Italy and Tuscany.
But, as you have seen, there are important details to consider, such as the best tickets, amenities, access and accommodation. If chosen well, they can make the experience much more exclusive and comfortable.
Another important thing to remember is that Andrea Bocelli's concert in Tuscany can be a good reason to plan a trip not only to Tuscany, but also to Italy.
Plan right know your trip to see Andrea Bocelli in Tuscany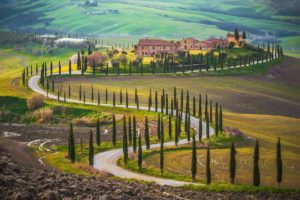 We hope we have helped you clarify the main points about Bocelli's concert in Lajatico. And if you're in the mood for a special trip, with this classic concert by Andrea Bocelli in his hometown as a climax, talk to us.
We are specialists in Italy and we can create a completely personalized itinerary for this experience. And of course that includes Executive tickets, the best hotels and much more.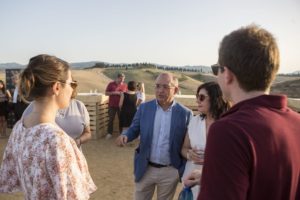 With us, everything is made-to-measure and there is no fixed itinerary. The trip is organized according to your preferences and your available time. You can set up a short or long trip, for a couple or a small group of friends, travel just through Tuscany or enhance your days with visits to Rome, Amalfi Coast, Liguria, Venice, Milan…  By the way, if you want to know what it's like traveling with Cieli, you can take a look at the testimonials of those who have traveled with us.
Whatever your itinerary, Bocelli's concert in Lajatico will be part of an incredible trip, with exclusive experiences and many other pampering and care that only Cieli di Toscana knows how to create.