The perfect Tuscany itinerary: tips for first-time visitors
Traveling through Italy and not doing a Tuscany itinerary is almost a sin. After all, the region is an incredible mix of medieval towns, castles, wineries, excellent cuisine and postcard landscapes.
The first thing that makes Tuscany so special is its history. After all, this is the homeland of the ancient Etruscans. Afterwards, it was part of the Roman Empire and the center of the Renaissance world. For this reason, Tuscany has a very rich artistic and cultural tradition.
Along with that, a Tuscany itinerary is perfect for those who love to admire the beauty created by man – in the arts and in culture – and the breathtaking natural beauties. By the way, did you know that the region has no less than seven UNESCO World Heritage Sites?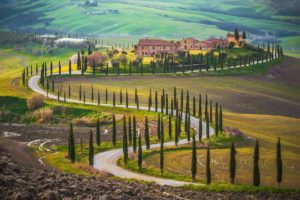 In short: whether for a romantic trip, with a group of friends, lovers of the arts or wine and cuisine, Tuscany is fascinating!
If you are thinking of a Tuscany itinerary and don't know where to start, this article is for you!
Tips for your first Tuscany itinerary
First of all, you should know that Tuscany is a place full of amazing cities and unforgettable travel experiences. There is a lot to see and do in the region. So if you've never been to this Italian region, you might get a little lost.
To help you, we have prepared this basic guide for those who are going on a Tuscany itinerary for the first time. We'll help you discover the best cities and places to visit, best time to travel, unmissable experiences, tips on where to stay, ideas on how to get around and more.
1. The best time for a Tuscany itinerary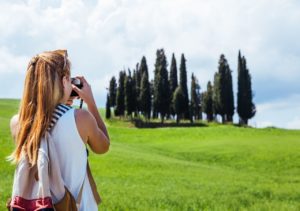 This may be the first question you face when thinking about a Tuscany itinerary. If that's the case, we can help.
The first thing you should know is that winter (from December to March) is not a good time to travel in Tuscany. The climate is cold, the landscapes are much less beautiful and less green. In addition, most hotels in the region's countryside and many attractions close during the low season, only reopening in the spring. In other words: we do not advise traveling during this period.
Thus, the best time to travel to Tuscany is between the months of April and November. In spring (April to June) the climate is mild, the cities are full of life and the countryside fields become colorful. Perfect for a romantic trip, for example. Autumn (from mid-September to November) is also an excellent time for a Tuscany itinerary. The climate is also mild, nature is splendid with autumnal colors and there are many seasonal delights such as truffles.
The summer (between July and September) is also interesting, with the sunflower fields bursting with color and many interesting events taking place, such as the annual Andrea Bocelli show at the Teatro del Silenzio. However, if you hate heat, remember: in July and August the temperatures can be quite high!
Be that as it may, if you doing a Tuscany itinerary from April to November, you will certainly have great travel experiences.
2. Best places to visit on a Tuscany itinerary
Florence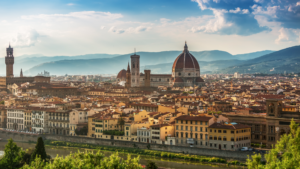 Capital and largest city of Tuscany. Here is where the Renaissance was born, so it's a city full of artistic masterpieces. It is also perfect for shopping, history and gastronomy. There is a lot to do in Florence. Definitely a must-see for your first Tuscany itinerary.
Siena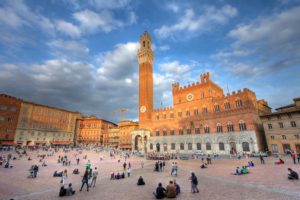 Second largest city in the region, home to the grandiose Piazza del Campo and the traditional Palio di Siena. Its historic center is so incredible that it is an UNESCO World Heritage Site. It is the ideal city to combine with a visit to Chianti, famous for its wine and natural beauty.
San Gimignano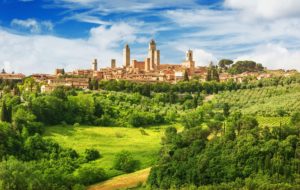 Medieval towers, landscapes and flavors: this is how San Gimignano can be defined. The historic center of San Gimignano is also an UNESCO World Heritage Site. In addition, it is one of the most charming cities in the region and visiting it on a Tuscany itinerary is a must
Montalcino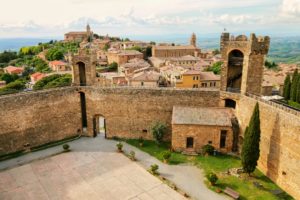 This is the city where the famous Brunello de Montalcino wine was born. Tiny but graceful, surrounded by beautiful landscapes and historic wineries such as the legendary Biondi Santi. In short: a mandatory stop for wine lovers on a Tuscany itinerary.
Pienza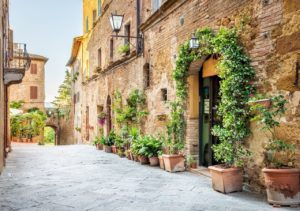 Absolutely charming! Land of pecorino di Pienza cheese (which you can – and should! – taste here), is also a very romantic town. It is surrounded by postcard-worthy landscapes, in the region known as Val d'Orcia, which – guess what! – is UNESCO Heritage!. With its neighbors Montepulciano and Monticchiello, it makes a trio of must-see cities.
Arezzo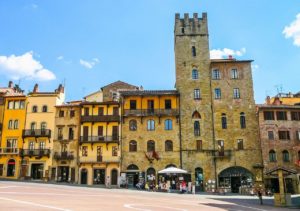 One of the gems of Tuscany, birthplace of many illustrious Italian artists, such as the poet Pietro Arentino and the painter, architect and writer Giorgio Vasari. It owns a very rich medieval and Renaissance architecture, in addition to hosting a famous antiques fair every month. So beautiful, it was the setting for the famous film Life is Beautiful, by Roberto Benigni.
Cortona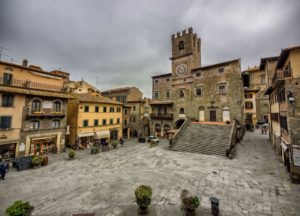 Located on the border between Tuscany and Umbria, Cortona is full of charming little streets, with ancient architecture and history. In addition, it is surrounded by stunning scenery. It became famous among Tuscan lovers for having been the setting for the movie Under the Tuscan Sun, based on the book by Frances Mayes. Without a doubt, it is worth including Cortona in your Tuscany itinerary.
Lucca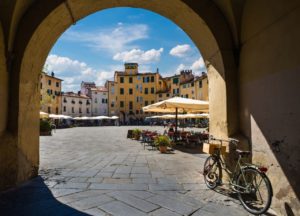 The city with the most well-preserved medieval walls in Tuscany, famous also for its oval square, Piazza dell' Anfiteatro. Flat, full of good restaurants and less crowded than other cities in the region, it is ideal for a quiet day, perhaps including a bike ride over the wall.
3. What to do on your first Tuscany itinerary
Appreciating the greatest Renaissance masterpieces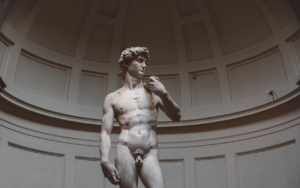 Florence is the birthplace of the Renaissance, and here you'll find the best of the period's artistic output, including Michelangelo's magnificent David and Botticelli's Birth of Venus. The Galleria dell'Accademia and the Galleria degli Ufizzi are the main museums to visit during your Tuscany itinerary.
Discover super charming medieval towns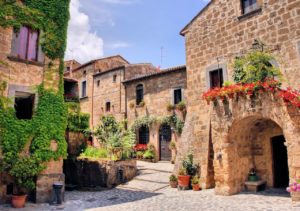 Much of Tuscany's charm lies in its medieval towns. Stone buildings with windows decorated with flowers, old castles, narrow streets full of shops and cafes…. Visiting some medieval towns, such as San Gimignano, is something that anyone who is doing a Tuscany itinerary for the first time cannot miss.
Visiting (at least) a winery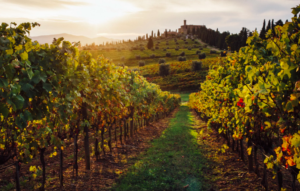 Chianti Classico, Brunello di Montalcino, Ornellaia, Sassicaia, Vino Nobile di Montepulciano… the wine producing regions and renowned wines are everywhere in Tuscany. In a first Tuscany itinerary, it is impossible not to visit at least one of the incredible wineries in the region to learn about the production, see the vineyards and, of course, taste wines.
Tasting cheeses, cold cuts and other local delicacies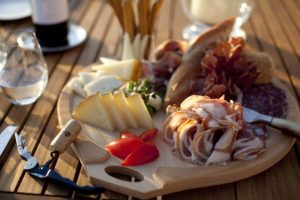 Tuscany has a great tradition in typical products. Cheese, salami, honey, tartufo, pasta, sweets… Whether you're visiting markets, specialty shops or local producers, you can't miss tasting the Tuscan delicacies.
Fazer um aperitivo com vista para o rio Arno, em Florença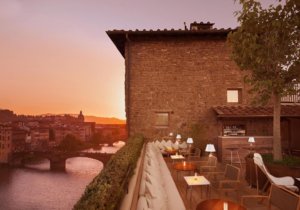 The aperitivo is one of the best Italian habits and enjoying it in golden sunset on Florence's Arno River ais incredible! Negroni, Aperol Spritz or white wine: choose your drink and end the day in style!
Watching Andrea Bocelli's concert in Teatro del Silenzio, Lajatico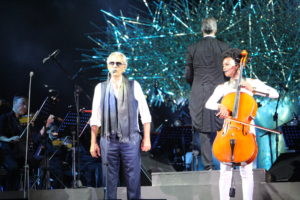 Every summer, Italian tenor Andrea Bocelli performs in the open air in his hometown, amidst the Tuscan landscapes. It is the well-known concert at the Teatro del Silenzio in Lajatico. It is the perfect blend of art and landscape, which attracts tourists from all over the world. In short: one of the most incredible things to do on a Tuscany itinerary!
Exploring the region's breathtaking roads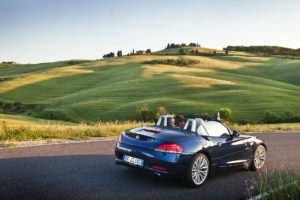 Tuscany is full of incredible roads: curvy, flanked by cypresses, hills covered in vineyards or sunflowers… You can't miss it! Even if you have a chauffeur service during your tour in Tuscany, it is worth renting a car for at least one day to live this experience.
Visiting the sunflower fields (and taking lots of pictures!)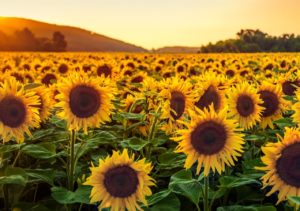 Yellow flowers as far as the eye can see, in beautiful fields, typical of summer. They are one of the landscapes that inspire Tuscan lovers. Prepare the camera and let yourself be enchanted!
4. How many days to a Tuscany itinerary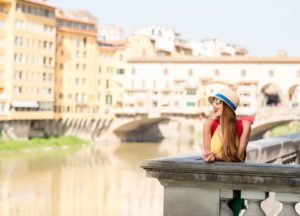 As you might have noticed, this is a region with many must-see cities and attractions. Therefore, a good Tuscany itinerary takes time. 5 days is the minimum time we recommend to get to know the basics of the region in a pleasant and unhurried trip. Less than that can result in a hectic and stressful trip.
However, the ideal time is between 7 and 10 days. In this way, you can explore all the beauties and programs that a Tuscany itinerary can offer.
5. How to get around on a Tuscany itinerary
Tuscany is an extensive region with several interesting cities. It turns out that they are often far from each other, so it is important to think about the best way to get around. To give you an idea, here are the travel times between some of the main cities:
Florence to Lucca: 1h20min
Siena to San Gimignano: 50min
Florence to Siena: 1h15min
Florence to  Montalcino: 1h50min
Siena to Pienza: 1h10min
San Gimignano to Arezzo: 1h30min
Pienza to Montalcino: 30min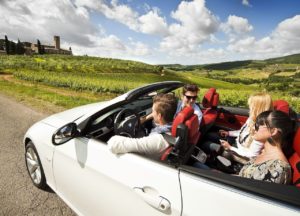 However, the answer to this question depends a little on your travel style and what you want for your Tuscany itinerary.
Renting a car gives you more freedom to do the tours, allowing for more improvisation and changes to the itinerary. In addition, Tuscany features very good and beautiful roads. On the other hand, it brings a little more fatigue and worry.
On the other hand, having a private chauffeur service, although it adds cost, it might offer much more comfort and less fatigue.
Therefore, it is worth enlisting the help of experts to think about which option (or combination of options) is the best for the logistics of your first Tuscany itinerary.
6. Where to stay in Tuscany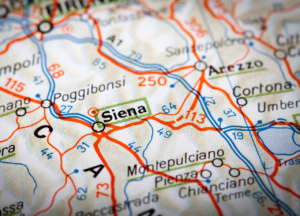 Deciding where to stay is one of the essential points for any Tuscany itinerary. First of all, it is important to choose hotels that are strategically located according to the cities you decide to visit. After all, it's not worth choosing a hotel in Tuscany that is far from your interests and wasting a lot of time traveling around.
In addition, it is important to choose a hotel that suits your style and type of trip. For example, a honeymooner asks for more romantic hotels in the countryside. Younger travelers may prefer more modern places. Or, wine lovers can make a point of staying in a hotel with a winery, for example.
In short: the hotel is a fundamental element for you to experience unforgettable moments on your Tuscany itinerary That's why we've selected here some tips on hotels in Tuscany that will delight anyone.
Belmond Castello di Casole
This 5-star hotel in Tuscany is pure luxury. It is part of the prestigious Belmond hotel chain. So it's kind of a place you don't want to leave! The wonderful infinity pool, the perfect SPA for a relaxing moment, the elegant apartments, the private villas, the restaurants… Perfect for those who want exclusivity in a tour of Tuscany.
Rosewood Castiglion del Bosco
Located in the Montalcino region, Castiglion del Bosco is an excellent 5-star hotel in Tuscany, immersed in the beautiful landscapes of the Val d'Orcia. It is an amazing option for those who want to explore this region on a tour of Tuscany. The hotel sits on an immense 800-year-old estate that includes a golf course, a winery and olive groves. Definitely one of the most luxurious stays you can have on your Tuscany itinerary.
Borgo San Felice
Borgo San Felice is one of the best hotels in the Tuscan countryside. First of all, it is located in the heart of Chianti, so it is surrounded by beautiful vineyards. Afterwards, it stays in an old medieval villa, with stone buildings full of charm. In addition, it has excellent rooms and suites and great service.
Belmond Villa San Michele
Villa San Michele is housed in a former monastery situated in Fiesole, on the outskirts of Florence, amidst lush trees and garden terraces. This 5-star hotel in Florence offers truly incredible views of the city and is perfect for anyone looking to stay in an exclusive and peaceful location during their Tuscany itinerary.
Hotel Lungarno
This is a charming 5 star hotel in Florence and is a great option for accommodation in the city. First of all, it is owned by the Ferragamo family, which is linked to fashion, which immediately guarantees the elegance of the place. Secondly, the location is perfect, in the heart of the historic center with incredible views of Florence and Arno River. The hotel also features a Michelin-starred restaurant, Borgo San Jacopo.
How about planing your Tuscany itinerary?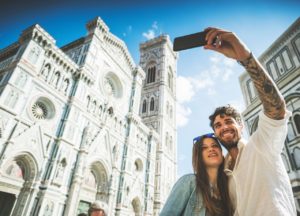 Now that you have some basic tips for a Tuscany itinerary, you can start making your dream travel come true
To ensure a perfect trip, you can count on the help of those who know the destination well, such as Cieli di Toscana. First of all, we are a team of experts in Italy. That's why we can prepare a tailor-made trip for you, with the best of Tuscany.
Second, the itineraries will be entirely customized based on your preferences. You will be provided with useful tips and suggestions of the best of each city. This way you won't fall into tourist traps..
In addition, when you arrive for your itinerary in Tuscany, you will not be "alone" in Italy. Our local Englishe-speaking team will be on hand to help make your experience even more complete and peaceful. Just take a look on what some of the people who have traveled with us say!
So, shall we travel? Talk to us and see everything we can do for you on a tour in Tuscany.