Sicily or Sardinia? Find out the perfect destination for your next trip
Are you in doubt about including Sicily or Sardinia in your travel itinerary? Before starting this article, we already have a golden tip to help you: both places, bathed by the Mediterranean Sea, are incredible destinations to visit in the summer.
If this first tip made you feel even more in doubt about which one is better; Sicily or Sardinia, don't worry!
In this article, we have prepared a small comparative guide to help you choose between the two destinations and start organizing an unforgettable trip through Italy.
Good reading!
Choose your next destination: Sicily or Sardinia
Do you need help to define what is better: Sicily or Sardinia? Then continue reading this topic. Next, we will compare touristic, gastronomic and differential features of each destination.

Sicily
It is the largest island in the Mediterranean Sea. Located in the shadow of Mount Etna (one of the largest active volcanoes in Europe), Sicily has breathtaking landscapes filled with lush green.
In Sicily, visitors and tourists can also discover the Aeolian Islands in the North, recognized as a UNESCO world heritage site.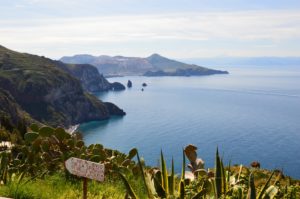 To arrive in Sicily, the most efficient way is by airplane. The main airports in the region are in Palermo, Trapani and Catania. 
Where to stay
Once in the exuberant Sicily, take at least one day to discover the "capital of Sicily", Palermo. It is possible to find lots of luxury accommodation besides several options for tourism and leisure there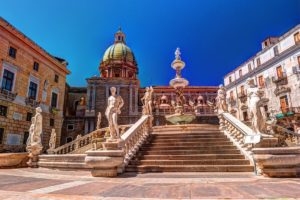 In addition to Palermo, it is also worth staying in the Agrigento region. It offers fun, incredible landscapes and culture, with its ruins (the Valley of the Temples is an unmissable tour), remnants of a rich historical setting. In Agrigento, staying at the top of the high hills has a special bonus: the breathtaking views.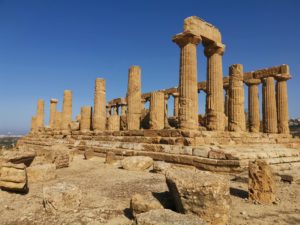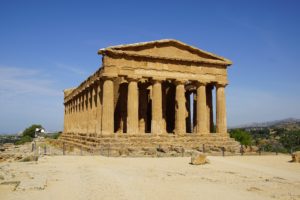 How to move around
Locomotion is surely an important detail to be considered in your travel itinerary. The question is: which one suits better my trip, Sicily or Sardinia?
To discover Sicily better, our tip is to rent a car. We are talking about an extensive territory with cities far from each other.
If renting a car is not an option, it is possible to visit the touristic places of the most famous cities in an alternative transportation, such as the ape calessino (a typical rounded vehicle with three wheels carrying the driver at the front seat and two passengers on the back seat).
Of course, if you wish to fully enjoy just one city, it is perfectly possible to choose a strategic accommodation to explore the main touristic places on foot.
Prices
Before mentioning the prices in Sicily or Sardinia, it is necessary to consider the kind of experience you wish.
If you are planning your honeymoon trip in Italy, we will surely include the best restaurants and 5-star hotels. The same happens for the ones who look for exclusive and unforgettable trips.
To give you an idea, the accommodation can cost from € 23 to € 1,000 per day and the costs per meal can vary from € 12 to € 130 (at a Michelin-starred restaurant such as the Gagini Social Restaurant in Palermo)
Last question: is it worth traveling to Sicily? 
Without a doubt we say: Yes! It is worth including Sicily in your travel itinerary, especially if you are planning to visit Italy in the summer.
The region offers touristic options to different traveler profiles, since bucolic and peaceful destinations (such as Castellammare del Golfo county), destinations with a European atmosphere, restaurants and bars with tables on the sidewalk (such as Taormina, a city at the top of the hill on the east coast of Sicily) and of course, beautiful wineries.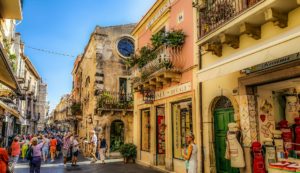 Sardinia
If you are still in doubt between Sicily and Sardinia, you should know that the strongest features of Sardinia are the beaches and the paradisiacal and dream landscapes.
Mostly mountainous, its geography is characterized by high peaks in the west and breathtaking beaches in the east.
Besides the beaches and the mountains, it is possible to find arid and swampy regions exclusively inhabited by local species of animals. Interesting, isn't it?
You can arrive in Sardinia by airplane leaving from Rome to any of the three airports in the island, located in Calgari, Alghero and Olbia.

Where to stay
The touristic heart of Sardinia is Costa Esmeralda (the Emerald Coast). You find there the most varied options of accommodation, gastronomy and culture.
To the ones who want to escape the crowds and live idyllic days in Sardinia, our tip is the region of Alghero. Its strongest touristic feature is the contact with the nature: the Neptune's Cave, the beaches of Maria Pia and Le Bombarde and the Nuraghe Palmavera's archaeological site.
How to move around
Such as in Sicily, the best way to move around is to rent a car. If driving is stressing for you especially in long distances, our recommendation is to hire a complete rental car service with a driver.
To the ones who love luxury tourism, Sardinia has also a differential: it is full of marines, perfect to anyone who wish to enjoy the beautiful landscapes of the island on a Yatch
Prices
Whether in Sicily or Sardinia, the travel investment depends directly on the traveler profile.
To the ones who look for unique, exclusive and sophisticated living moments Sardinia offers Michelin-starred restaurants to have amazing meals (such as Dal Corsaro in Cagliari). Besides, it also offers 5-star hotel options, such as Hotel Pitrizza, on Costa Esmeralda (the Emerald Coast) with rates upper than € 1,100 per day.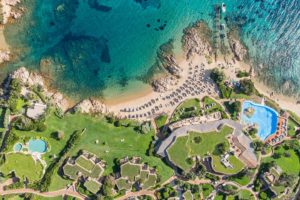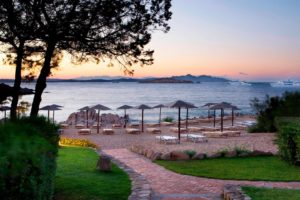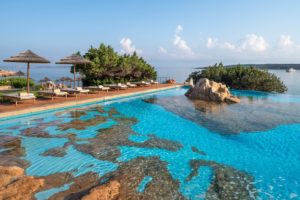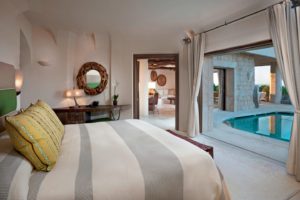 Last question: is it worth traveling to Sardinia?
Once more our answer is: Yes! Sardinia is an unmissable destination to anyone who wishes a dream-trip: paradisiacal landscapes, different options of restaurants and touristic points and leisure options for the ones who enjoy busy places or reserved destinations.
Which one is better: Sicily or Sardinia? 
Has our article helped you decide which one is better, Sicily or Sardinia? Yet, would you like to know the differentials and charms of both destinations that made you wish to visit?
If this is your case, we have great news! It is perfectly possible to include both Sicily and Sardinia in your itinerary. There are Ferry boat routes that offer Sardinia-Sicily ways with a price that varies from 30€ to 80€. The extensive route (about 12 hours) can be an extra adventure for your travel itinerary.
If you are looking for a serene and practical trip, it is also possible to travel between Cagliari and Palermo (capital of Sicily) by plane. It is a simpler and faster way.
Start planning your dream-trip
After receiving a lot of information about these two paradisiacal places in Italy, how about starting to get your trip to Sicily or Sardinia off the ground?
Whatever the choice is, we can help you!
Cieli di Toscana team knows the country like the back of their hands and we are ready to help you prepare a tailor-made trip, including all the services you desire.
The trips planned by Cieli di Toscana include 5-star services, concierge and assistance in English during your stay In Italy.
We design a customized itinerary based on your preferences. You will find useful information and suggestions of the best of each city: places to visit, the most beautiful roads to reach the destination, the most convenient parking lots, the best restaurants, stores, experiences and much more.
In addition, you can check our exclusive app with more than 1,500 suggestions of what to do, where to buy and where to eat at your destination!
How about contacting us to make your dream-trip come true?