What to do in Turin and surroundings? Eleven tips for 1 or 2-day itineraries
Charm, sophistication, incredible natural landscapes and an undeniable cultural environment. Whoever finds out what to do in Turin and surroundings during a trip, returns home with heart and mind full of each of these differentials for sure.
The fourth largest city in Italy (behind only Rome, Milan and Naples), Turin is known as the "royal city". That is because the Italian royal family, Casa di Savoia, lived in the city in the 1800s.
If you are thinking of including Turin in your travel itinerary in Italy, you have found the right place. In this post, we will give you 11 golden tips to enjoy this destination full of riches as much as you can in 1 and 2-day itineraries.
Good reading!
The charm of Turin
Wide avenues, imposing buildings and a vast historical legacy are some characteristics of the charming Turin.
The city is the capital of Piedmont and it has more than 880,000 inhabitants. It is famous for its refinement so connected to royalty.
Turin does not have only sumptuous constructions, though. In the destination, you will also find paradisiacal and perfect landscapes for a romantic itinerary full of unpretentious walks and beautiful sunsets.
You may say: our brief introduction about the city already made you want to know in detail what to do in Turin and the surrounding, right?
The wait is over. On our next topic, we will give tips for 1 and 2-day tours in the city and in nearby destinations.
What to do in Turin and surroundings? 
Known by the intimate ones as "little Paris", the charm of the city of Turin precedes it: the wide streets full of cafes, small restaurants and historic buildings transport tourists directly to a movie scene.
Have you decided to travel to the region? Then, it's time to find out what to do in Turin and the surroundings on 1 and 2-day tours!

What to see in Turin in 1 day?
If your trip to Turin is short, the ideal is to have a dynamic itinerary, bringing together near and must-see sights. See our selection below.

1. Bike ride through the city center;
2. Visit the Piazza Castello (Castel Square);
3. Explore Plazzo Reale and Palazzo Madama;

4. Admire the Cathedral of Turin;
5. Stroll around Piazza San Carlo;
6. Visit the Museo del Cinema (and go up to Mole Antonelliana)
7. Explore the Museo dell' Automobile and the Museo Egizio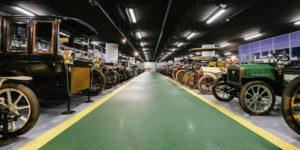 8. Walking along Po River;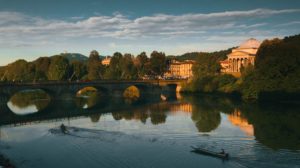 What to do in Turin in 2 days? 
If your stay in Turin is a little longer, we recommend the itinerary above and a few more visits. You will be able to explore some of the cities around Turin and their touristic differentials.

9. Visit the Basilica di Superga, built on top of a hill with a privileged breathtaking view; 

10. Drive to Ivrea, located on the road that leads to Aosta Valley (in Ivrea, be sure to visit the castle built 1357!);
11. Explore the Palazzina di Stupinigi
, one of UNESCO world heritage sites. It is in Nichelino, 5 miles away from Turin.

Gastronomy of Turin: and attraction in itself 
It is impossible not to mention on this article the gastronomy of Turin. The city is home to a number of delicacies (sweet and savory). A tour to taste each of these delicacies should not be left out of the itinerary
Gianduia
Because of the restriction on the entry of ingredients into Italy by Napoleon, the taste of chocolate gianduia (made with roasted hazelnuts) was created and it is everywhere in Turin. When visiting the city, be sure to buy some "gianduiotto" to taste and give it as a gift.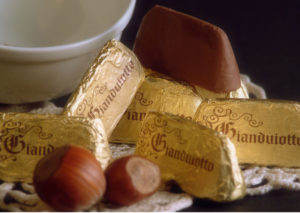 Bicerin
Traditional drink in Turin, Bicerin is made up of a perfect combination of three ingredients: coffee, chocolate and sour cream. Enjoy a stroll through the center of Turin to sit in a cafe and enjoy a drink – especially if you are visiting the city in the winter!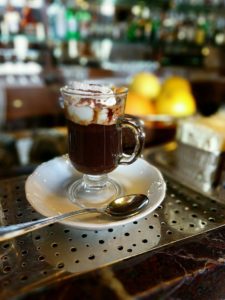 Eataly
The last gastronomic tip is actually a space that brings together different types of dishes. That is Eataly, one of the most famous gastronomic spaces, with headquarters all over the world.
You may be wondering – if there are Eataly spaces all over the world, why do I need to visit the one in Turin?
We answer: because the headquarters in Turin is the first in its history and therefore, it is full of history and tradition.
Besides, the place is a must for those who like to taste local dishes. Once at Eataly in Turin, be sure to order the agnoloti del plin, a typical pasta from the region.
Plan your trip to Turin and surroundings now
Now that you know what to do in Turin and the surroundings, you can start taking your dream-trip off the ground.
Remember that to ensure choices that fit your travel profile, it is recommended the help of those who know the destination well, such as Cieli di Toscana.
Our team of specialists in Italy can prepare a tailor-made trip, including all the services you desire.
The itineraries will be entirely customized based on your preferences. You will have access to useful information and suggestions of the best of each city in it: places to visit, the most beautiful roads to reach the destination, the most convenient parking lots, the best restaurants, stores, experiences and much more.
We only recommend places that we have already traveled and visited, so you don't have bad surprises during your trip.
There's more! Arriving at your destination, you and your family will not be "alone" in Italy. Our local English-speaking team will help you make your experience even more complete and peaceful.
Do you want to see what Cieli's customers say about their experiences in Italy? Then check out the testimonials below:
Finding Cieli di Toscana was like finding the Genie of the Magical Lamp and having all our wishes fulfilled. The impeccable dedication and guidance from our lovely travel consultant, we were able to define a super-exclusive itinerary. Thank you for the unforgettable moments, full of love and union as a family! Grazie mille! See you soon!"
‐ Constantin & Trajano families
"The entire service provided by Cieli di Toscana from the first moment until the end of the trip was unique! We are just grateful for all the attention, time, help and affection you cared our days in Italy."
‐ Camila & Alberto
How about planning your dream-trip now? Contact us and we will be happy to create the best travel itinerary for you!